BSC PLAYER PROFILE
Carolyn "Peaches" Wolfe
BSC Staff: Who are you playing with in 2013?
I will play this year with the Lady Blazers, LIA and anybody else until the rosters get frozen…lol…SHO U RITE SAP SUCKAS…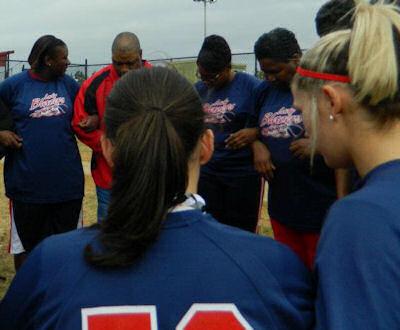 BSC Staff: Why do you like playing on the circuit?
I love playing on the circuit because it's like home away from home. The atmosphere is great and I love meeting people and having fun. It's exciting waiting on Friday to arrive so I can go out of town to joke, laugh and play some serious softball. I've never seen people take softball so seriously until I got on the circuit in 2005. I just love the competition, prize packages and traveling to different cities. Love spreading my peach, I mean my peachy love around…lmbo
BSC Staff: Who is the best softball player you have ever seen play?
Well I guess it depends on whether you are asking defense or offense or both. I really hate to pinpoint anyone because since I've been on this BSC Circuit, I've seen lots of great softball players in Rec and Comp. HATS OFF TO EACH OF THEM…
Well when I first got on the circuit, I always enjoyed watching my brotha practice and in action.
Male – The best softball player I've ever seen play was my brotha, Rhodney Donalson.
Female – This one is too tough for me. I love watching several of my sistas swing – Santana, Charmaine, Shell, Alexis, TBird, Deproct, Michelle Johnson, Sirene and all of Enough Said Players, Grace, Moon, Q, Tammie, CThumperhit, Erica, Nuttin Nice shortstop, Leslie, BA, Mon, Ruby, Camille (one of the best shortstoppers), Brandy, Tonya and many, many more. (Almost guaranteed a basehit or homerun about 95% of the time)…
BSC Staff: What is your nickname in softball?
Peaches, DaPeach, Peach are my nicknames in softball.
BSC Staff: Where do you call home?
I live in Thomasville, GA. I'm a SOUTHERN PEACH…
BSC Staff: How did you get into playing softball?
I went to a night league game with my aunt when I was about 12 years old. They were about to have a forfeit because they didn't have enough players. The pitcher didn't show up. Players had to be 16 years old to play back then. I told my aunt that I wanted to pitch. She lied and said I was old enough and I started throwing balls to warm up. Never pitched before in my life but always was fascinated by watching people pitch. We won that game and I only walked about two people.
BSC Staff: Did you play sports in High School / College / Pro?
I played softball, basketball and ran track in high school. Got in a serious car accident two weeks before my senior year which dampened my chances to play in college.
BSC Staff: What positions do you play and what is your best position?
Are you referring to in the bed or on the field? (LOL) Nothing like laughter. I played right field, second bases and pitched back in the days. Since I've been on the circuit, I've only played pitching. According to my teammates, coaches, friends and my beloved BSC Family, pitching is my best position.
BSC Staff: what are your hobbies other than softball?
Flag football- 3 years reigning champions - 2010, 2011 and 2012
<![if !supportLineBreakNewLine]>
<![endif]> BSC Staff: What is your most memorable softball moment?
My most memorable softball moment was the last inning in the SO SO Def tourney a few years ago. I've always been known as a basehitter. If my memory serves me correctly, I think there were two outs and runners on base and it was my turn to bat and we needed the runners on base to score. The opposing coach had the left fielder and left center to come in. I kept hearing my coach and the men Blazers saying "Come on Cissi, you can do it"! I let the first pitch pass me by – strike one. Dang. Got a little more nervous but when that next pitch came I swung as hard as I could. I burned the left fielder and we won the tournament against a GREAT team!
BSC Staff: What song would you want playing when you step up to the plate?
I Never Would Have Made It Without You.
BSC Staff: What is your favorite non-World BSC tournament?
I just love going to Columbus in April and Chattanooga in May. It was hard deciding between the two. You know how it is when you try to decide between the main man or the sidekick one sap suckas…lol…Guess dats why I'm still single…
<![if !supportLineBreakNewLine]>
<![endif]>BSC Staff: What is the funniest thing you have ever seen on a softball field?
The funniest thing that I have ever seen on a softball field was when Moon and I were playing with my Sunday League team from Barwick a few years ago. We were playing against Lee Daniel's hometown women team in Douglas, GA. Moon was playing first base and I was playing shortstop (only in Sunday league – lol). The ball was hit to me at shortstop and I picked it up and aimed throwing it toward 1st base and the ball went closer to homeplate. I yelled "Moon, you should have ran and caught dat ball"…lmbo…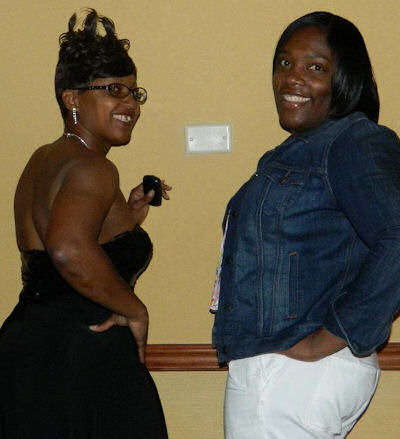 BSC Staff: Any shoutouts to anyone.
I don't have enough space to list everybody name on the BSC. SHOUT-OUTS TO MY BSC FAMILY. I'm just so glad and blessed to have met each of you. Special shout-outs to all of my REAL sistas and brothas. I want to go way back and give a shout-out to the CAT LAW – WE STILL RUN DIS and to the JUNKIE LEAGUE –sooo waaat sap suckas…lmbo.

Special shout-outs to the coaches, friends and loved ones who have ever done anything to help make it possible for me to attend tournaments. LOVE IS WHAT IT DOES…It brings tears to my eyes to say this but dis might be my last year playing softball due to my legs. LOVE EACH OF YOU!!!

CAN'T WAIT TO SEE YOU DIS YEAR!!!
<![if !supportLineBreakNewLine]>
<![endif]>